Posted on
Welcome to the eighth interview in the 100 Days of Papertint Conversations! Meet Andreea Iancu, a talented photographer and interior designer from Romania! This series is about connecting with winners from my 100 Days Project by learning more about their background, and how they connect with art. To read the previous interviews, go here: Anna Jo, Katy Palmer, Brita MacInnes, Elana Esterhuyse, Lydia and Design, Kendall Chinn, Kathleen C.
1) Could you tell us a bit about yourself?
Hi! My name is Andreea Iancu and I'm a photographer and interior designer from Romania. I fell in love with photography at a very young age, but only started to pursue it more seriously a few years ago while I was studying Architecture.
From photographing nature and architecture at the beginning, I gradually fell in love with women portraiture and fashion photography. By the time I graduated and took the interior design path, I was already hooked with both careers that, to this day, I still do my best to divide my time properly and pursue both of them. Sometimes they even intertwine - like when I get to photograph interiors or have a fashion photo session in an awesome interior location.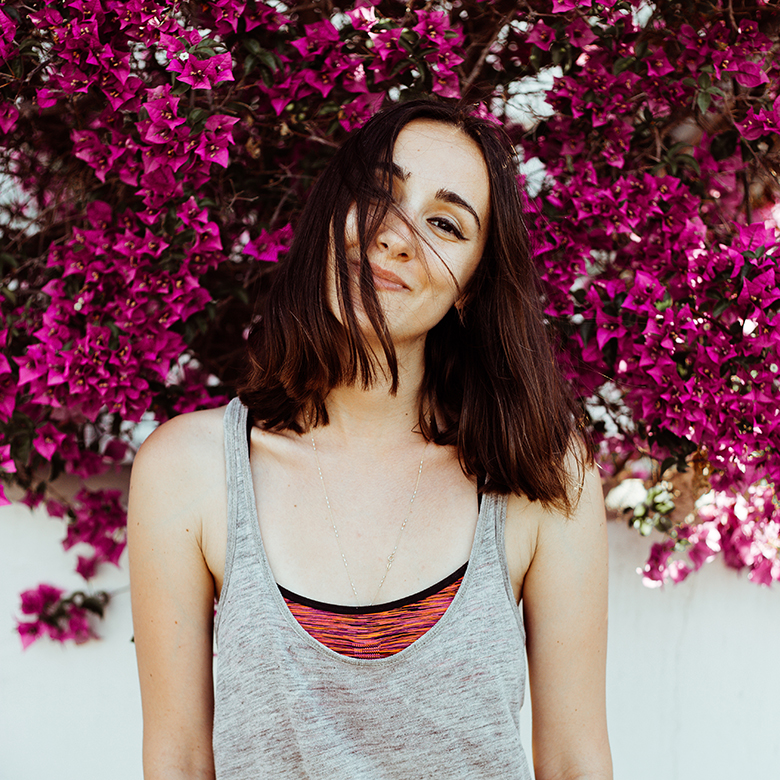 2) Where do you get your inspiration?
Usually from traveling. :) I love traveling to new places, being on the go and especially I love being at the seaside. Being close to the sea gives me a sense of freedom and energy to create that I just can't find anywhere else.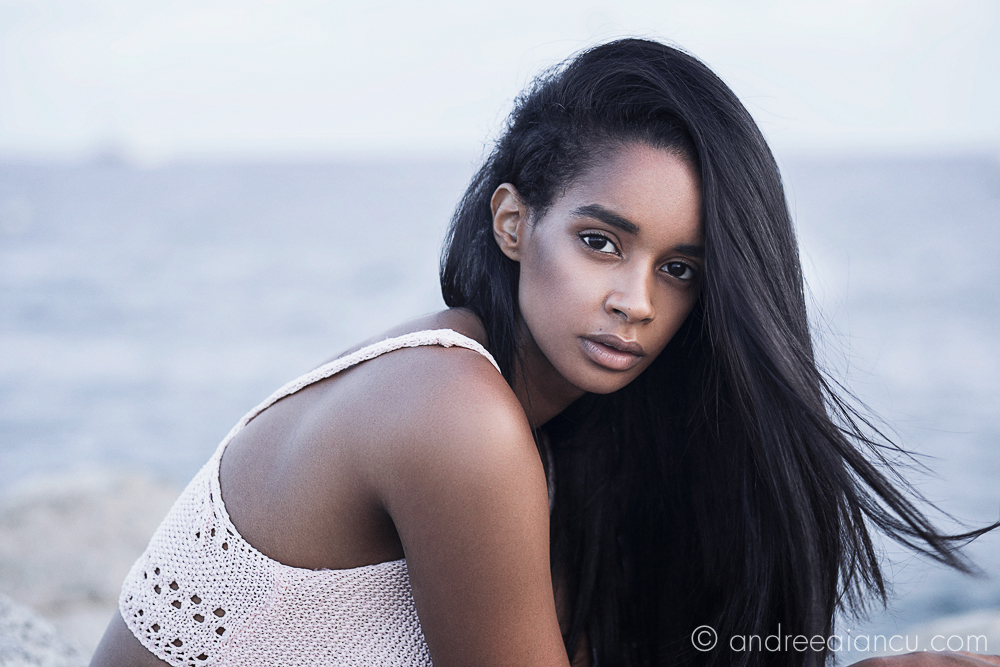 3) What type of photography/design are you into?
Both in my photography and interior design I try to keep things as simple as possible - not in the minimal sense, but rather in the overall approach of the project. Clean, timeless, bright - these would be some of the defining keywords for most my work and these type of projects are the ones that also attract me in the work of others. Sometimes I do experiment with darker tones or stronger contrasts, depends on my mood and/ or the project brief.
4) How do you feel about having a small piece of Papertint art in your home?
Feels goooood :) I absolutely love the painting: the colors are amazing and it's a marvel to touch and feel the brush strokes on the surface. As much as I love photography and seeing it in print form, nothing compares to a real painting - you can sense the physical work that went into creating every bit of it. Plus, this little Papertint art brings the sea inside my home so, bonus points ;)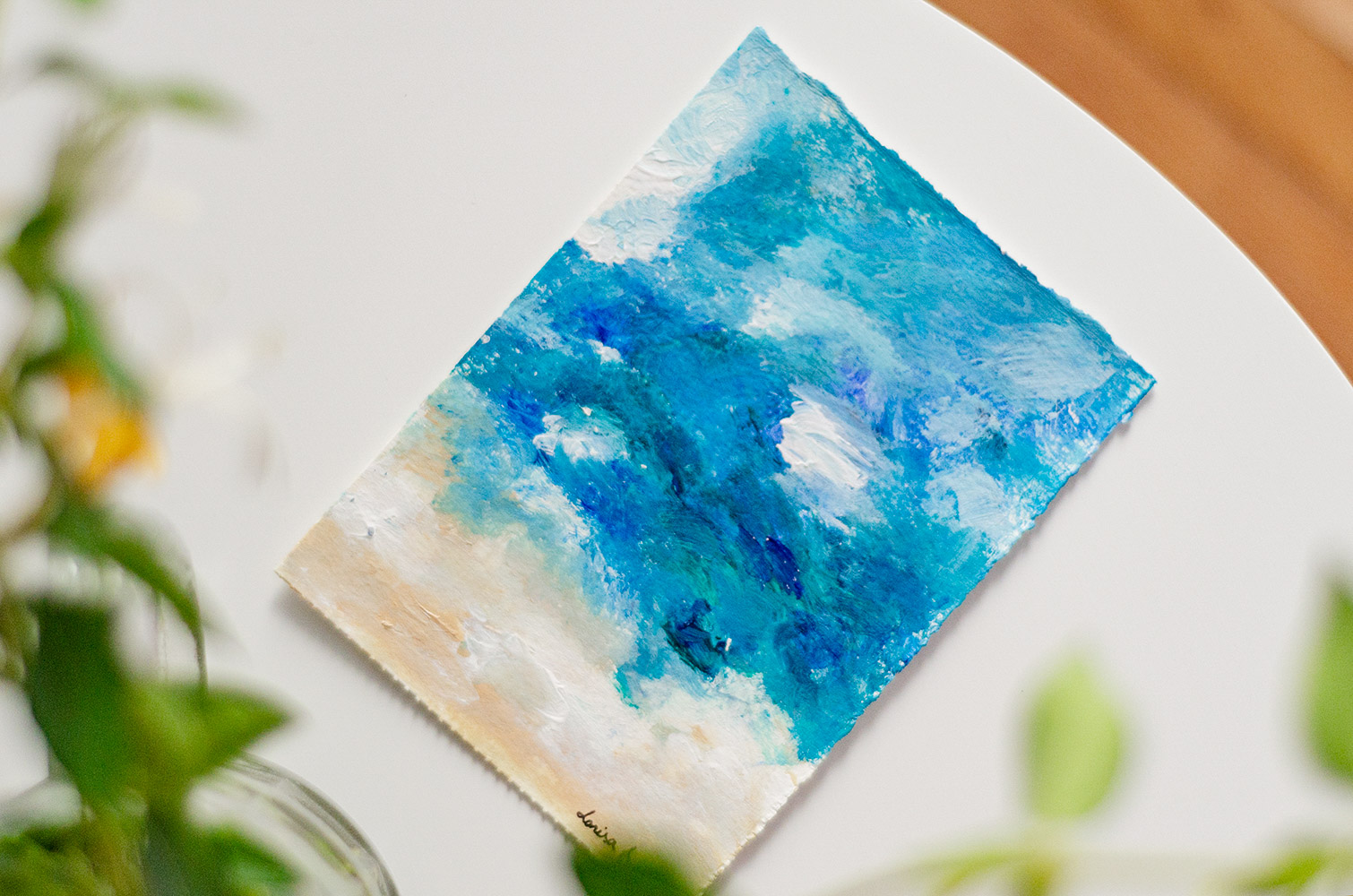 5) How do you discover new interior designers/fashion photographers?
It's pretty much a mixture of Instagram and specialty magazines for both. :)
6) Who are your favourite interior designers/fashion photographers and why?
In interior design I admire plenty of creatives, but I'd say Miriam Barrio is one of my favourites due to her light, simple, yet elegant style and the way she uses bold colours in her work.
As for fashion photography, Lara Jade is my all time favourite - I've been following her career journey for more than 12 years and I admire her ambition and determination. Her photographs are feminine, timeless, simple, yet elegant - the same thing I admire in Miriam's interior design work :) I also admire Nima Benati, especially her campaigns featuring more than 1 model - she's got an amazing eye for composing a story.
7) What do you love about social media? How does it help you stay in touch with art, design & photography?
I love how easy it is to connect with other people - either other creatives in the industry, people that admire your work or, why not, potential clients. For me Instagram is pretty much like a portfolio at the moment: I try my best to curate mine, but also whenever I research someone I want to work with (potential client or collaborator) the first thing I do is check their Instagram.
It helps me by offering all the inspiration and possible connections just a click (or swipe) away. :) The downside is that it can easily become a black hole that will suck up a big chunk of your time without you noticing it. I try to limit my time on social media and lately I've been curating my followings list so I keep just the people that inspire me and make me want to push forward. It's always a work in progress.
Your Instagram handle: @andreeaiancuphotography
Your website: www.andreeaiancu.com
If you enjoyed reading this, stay tuned for more interviews, and check out my newly released book, 100 Days of Papertint. To stay up to date and receive occasional freebies, sign up to my newsletter below. Would love to see you there!