Posted on
A look into Peninsular
Welcome to the third and final part of a series that explains the entire process of creating the 100 Days of Papertint book. To read part one and two, go here: What is the 100 Days of Papertint book?, and Postcards inspired by the book.
In this post, I explain how Peninsular stationery shop do their craft, and how they managed to continuously improve their practice over the years. I chose to have the 100 Days of Papertint book made by them, because their story felt very close to my heart. Now I'd like to share their story with you. If you ever get the chance to come to Porto Porto, make sure to pay them a visit!
Origins
Typographia Peninsular started as a small business, created by Valentim Ribeiro Gonçalves Basto. The company was officially established in 1905, but it had been actively printing even before that. It is nowadays named Peninsular – Stationery Shop & Graphic Arts. It occupies an enormous building in the historic center of Porto, an area considered UNESCO world heritage site. Despite the tourism boom that has been seen in Porto over the last few years, the owners of Peninsular have decided to not let the building be bought by hotels. They have been working in this building for generations and it means a lot to them.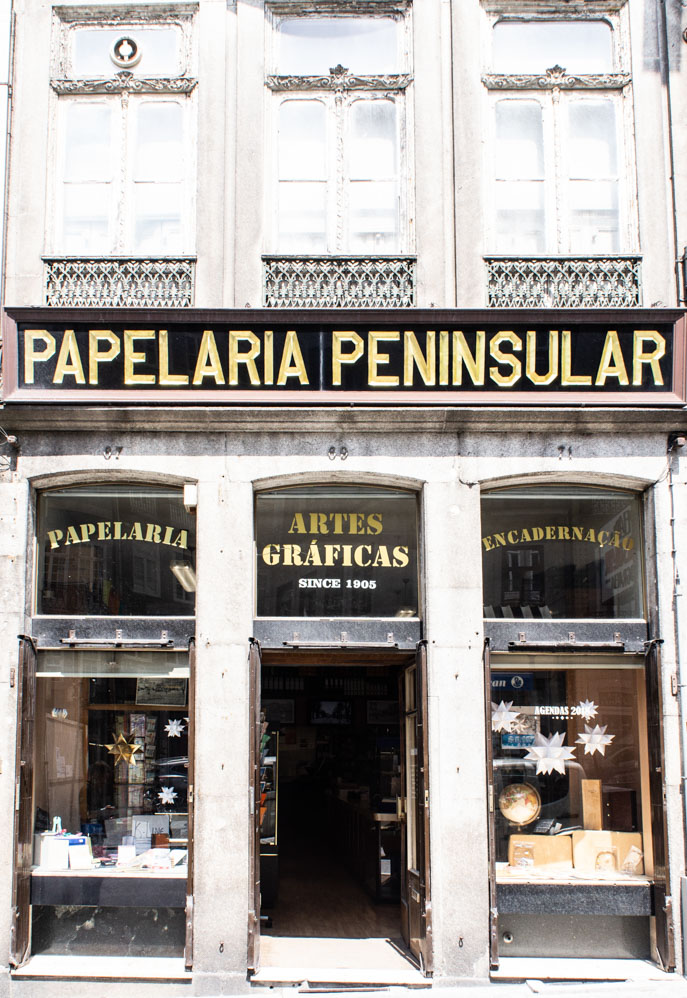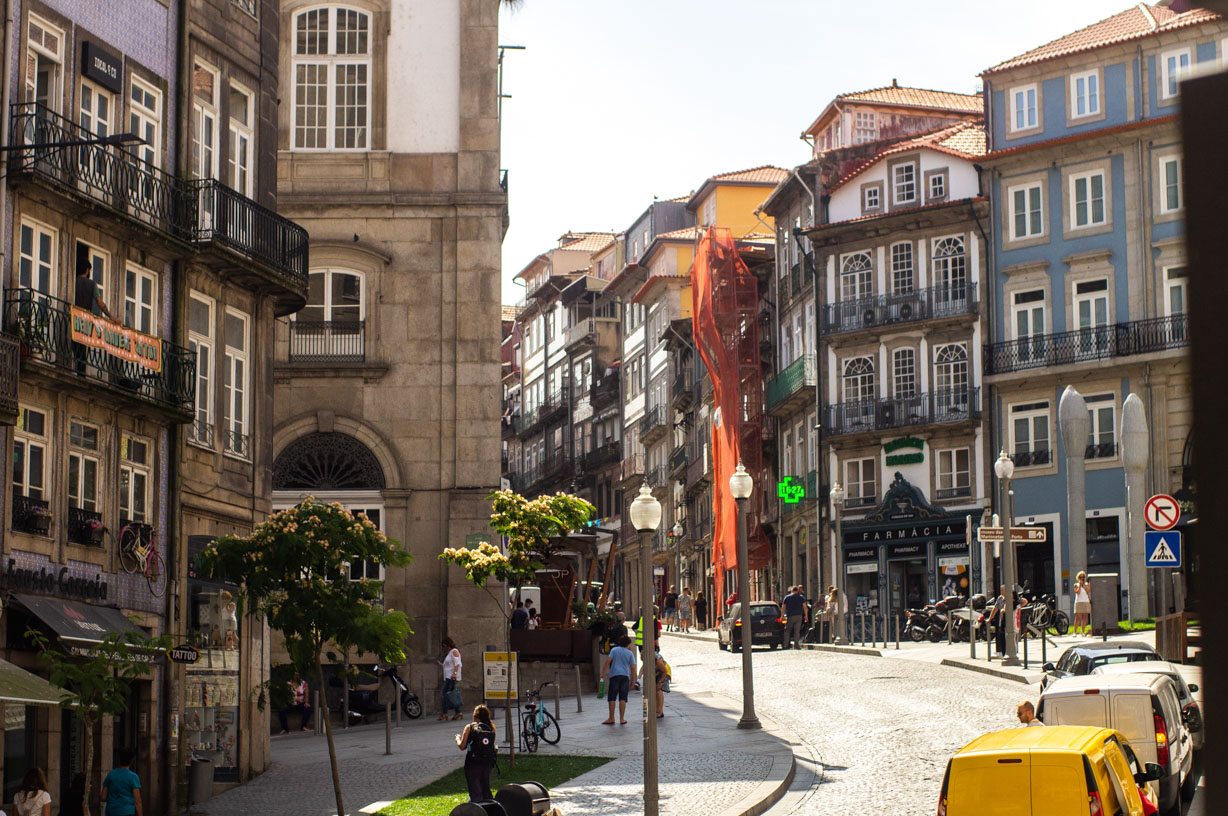 History
Going below the ground floor of the shop, we enter a world of history and craft. The room is filled with more than 100 years old exhibits, a rare collection of letters, and old machines that are still functioning today.
The company was officially registered in 1905, and is nowadays run by 4th and 5th generation members of the same family who started it. They kept all the resources that the company used to work with from the very beginning. Some of the older machines in the images below are still actively used in printing and function very well due to the proper care that was given to them over the years. Along with the machines, half of the room is filled with large drawers of letters that used to be assembled by hand, piece by piece, on a composing stick. Since it was taking about 2 hours to assemble one written page, they had 5 typesetters working only on this aspect. That makes me appreciate old printed items even more.
"A minha defesa", created by the author António Vasconcellos is the oldest written piece that was printed and produced by Peninsular.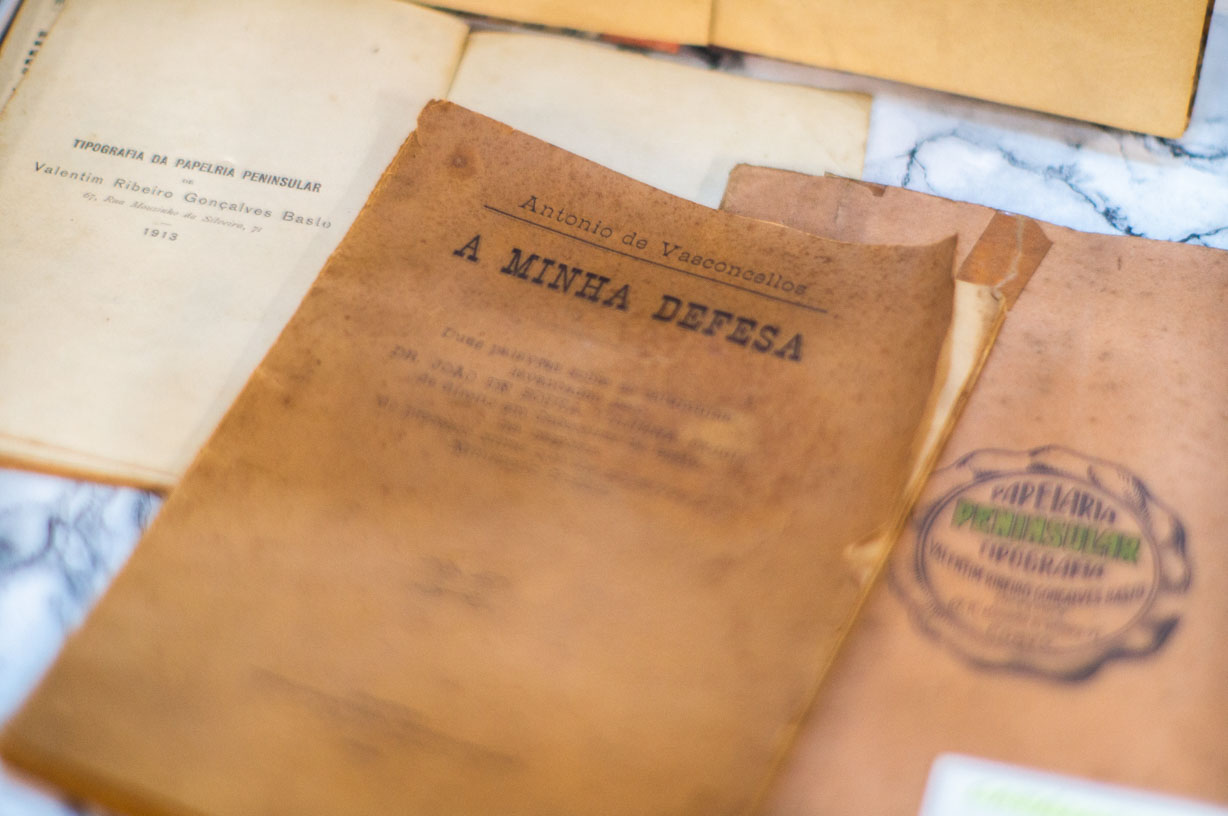 Peninsular logo over the years.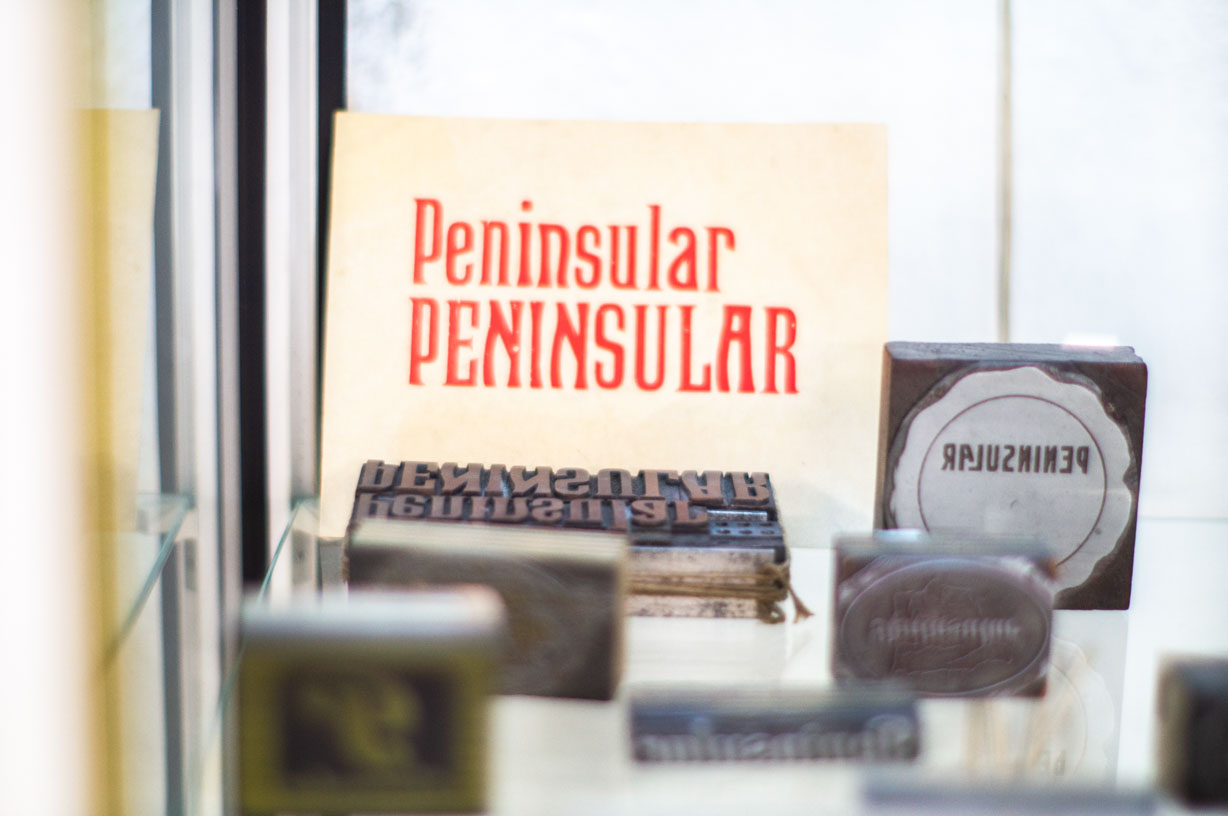 Block carved by hand by an artisan, specifically made for graphic arts.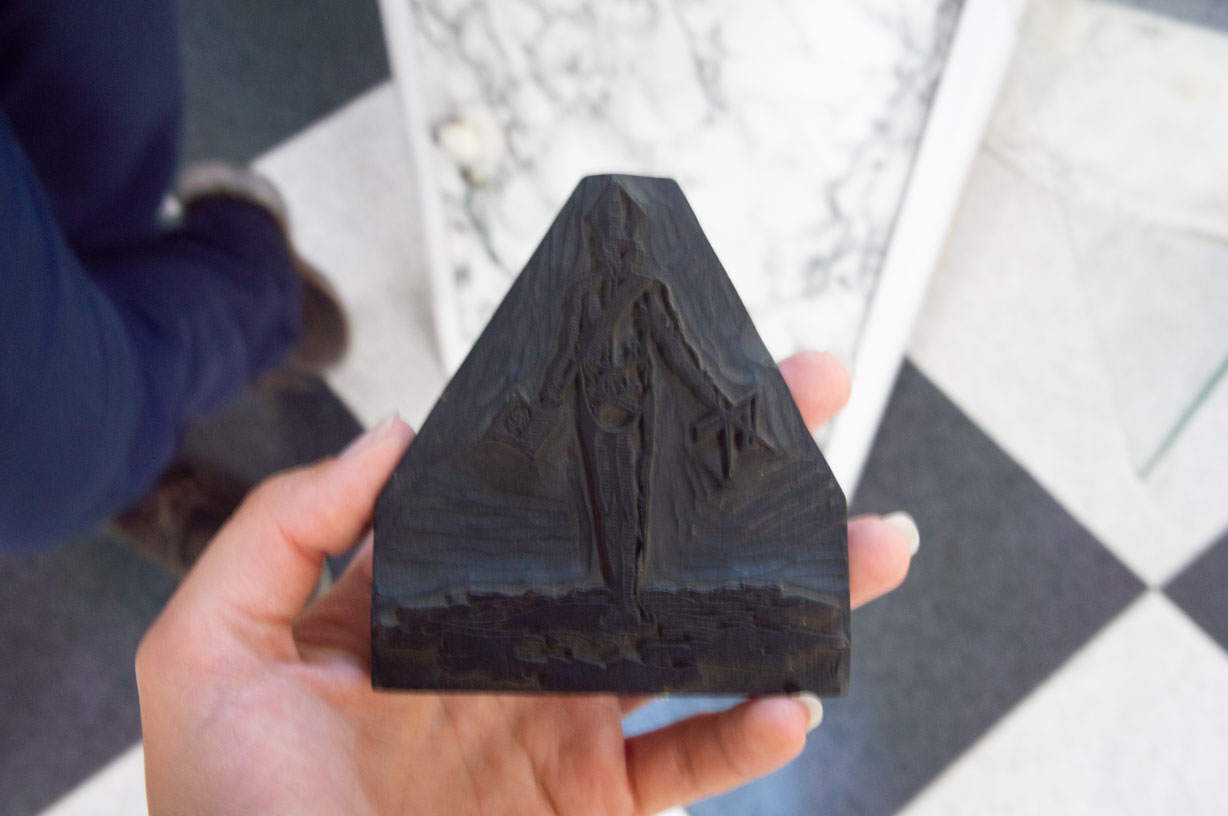 Font book, assembled by Americo in 1939. Customers would browse through this book to find the font they wanted to work with in their projects.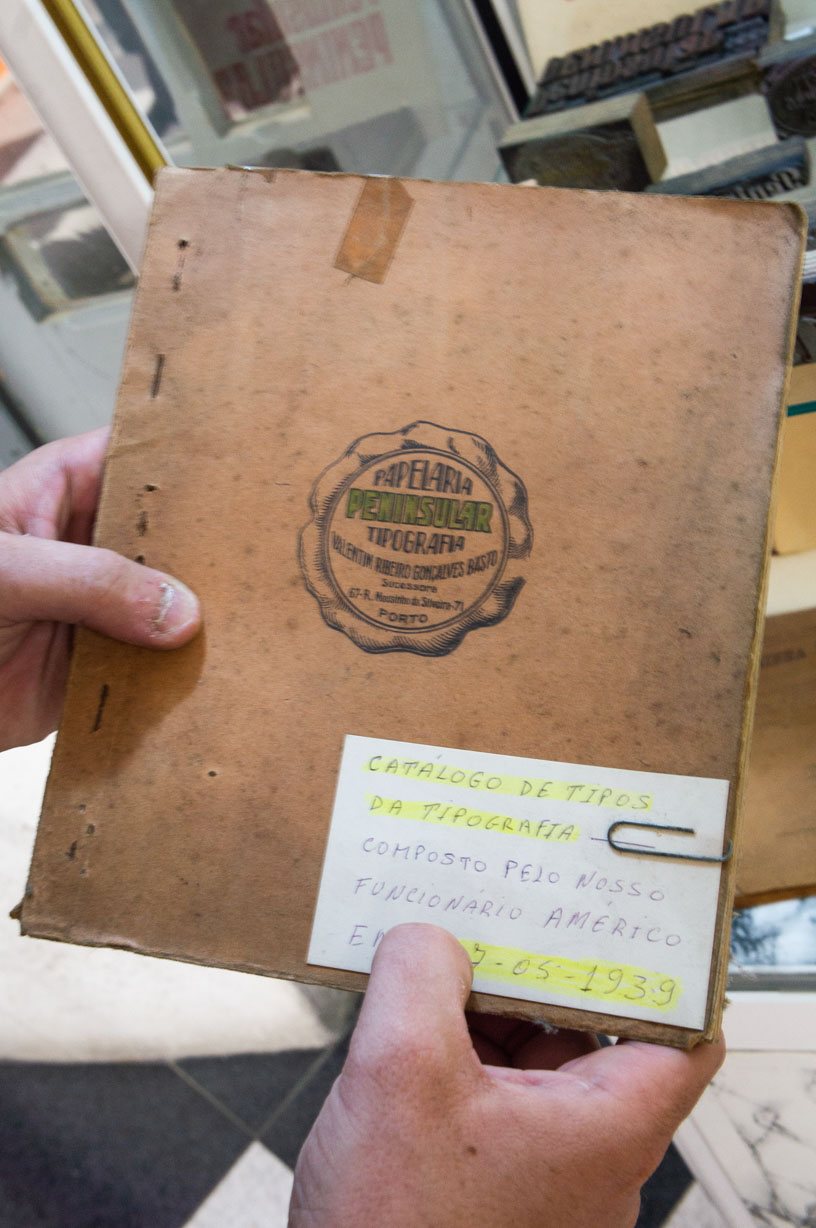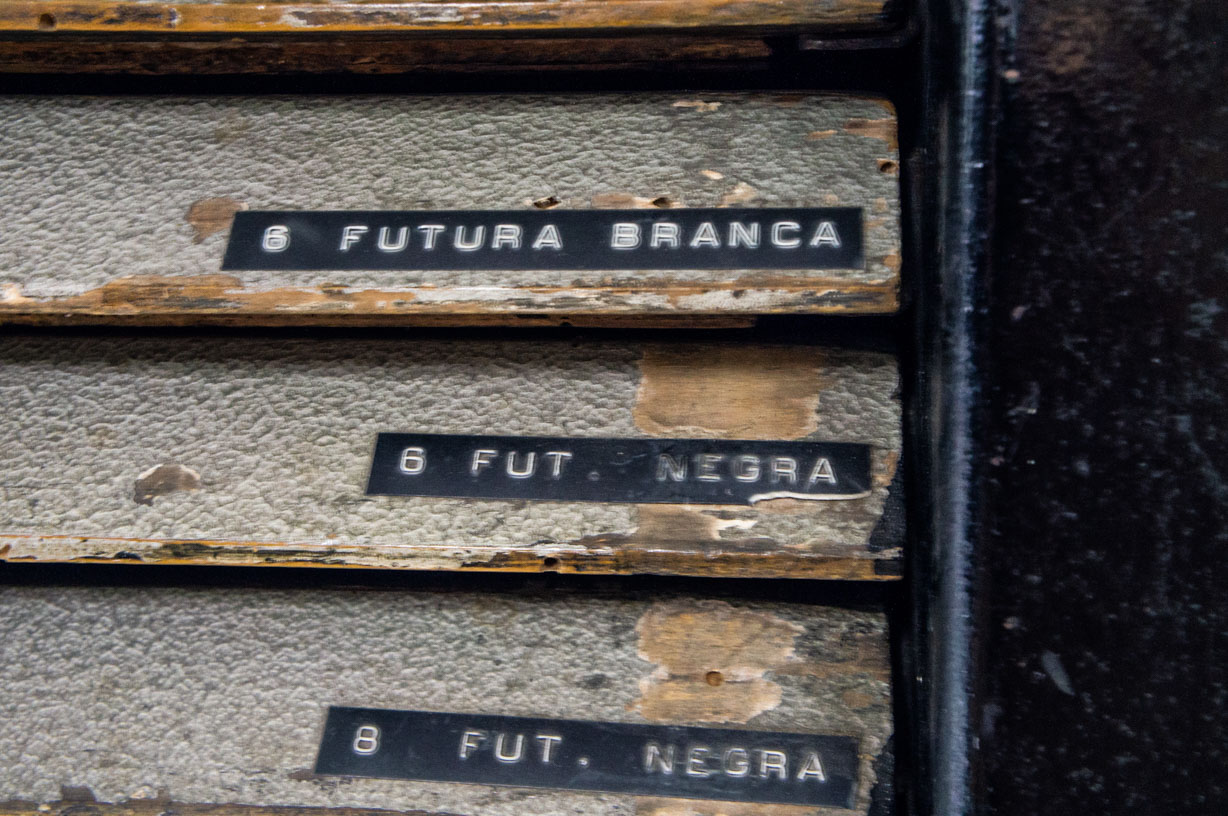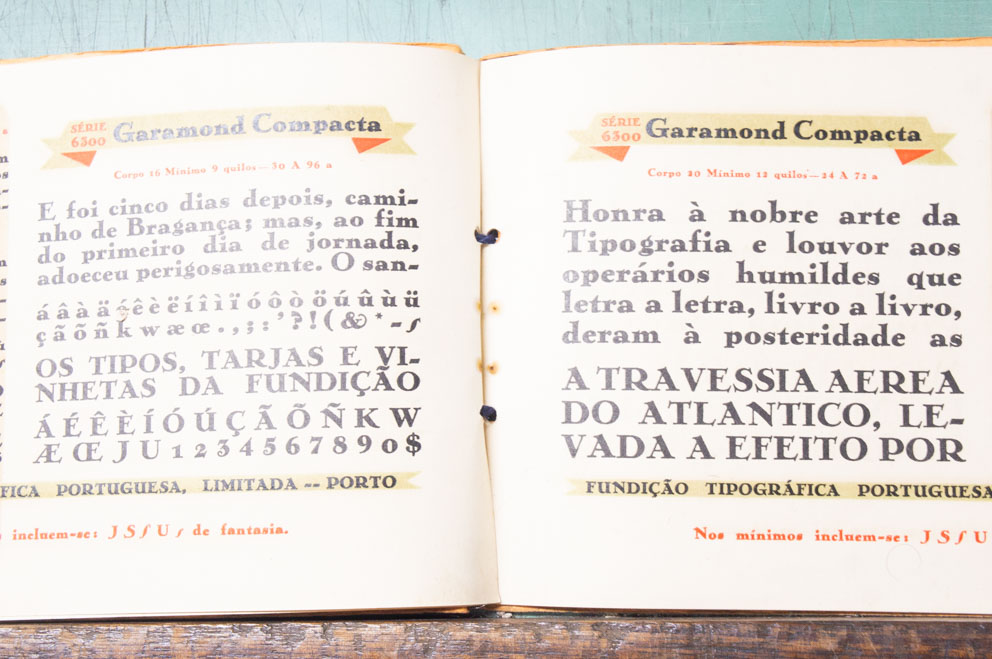 Drawers filled with small letters that were used for printing and typography in that time.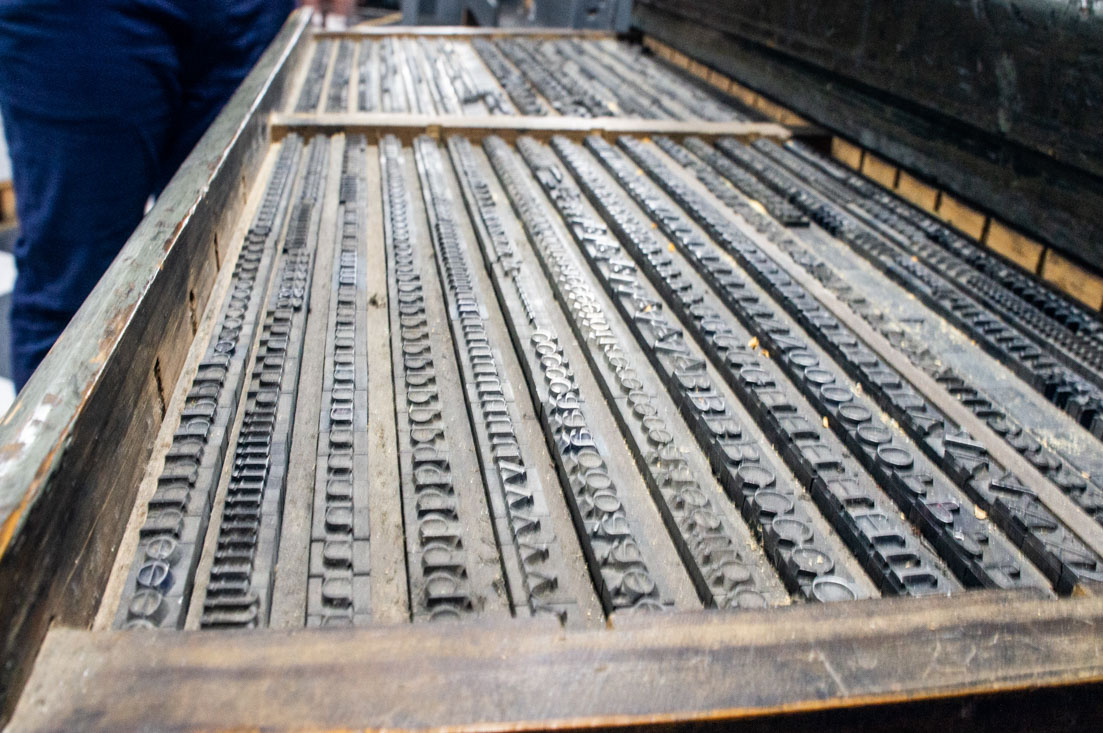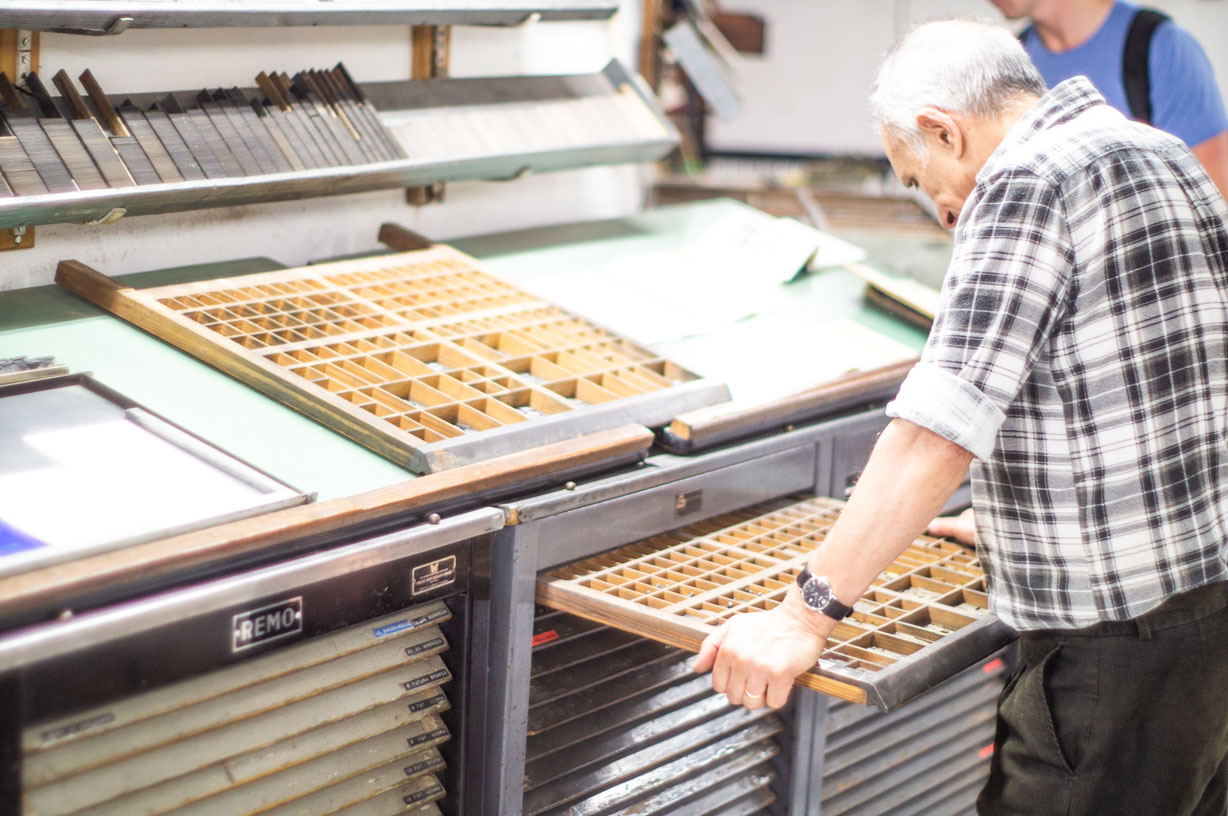 The oldest machine in Peninsular, from 1880, entirely manual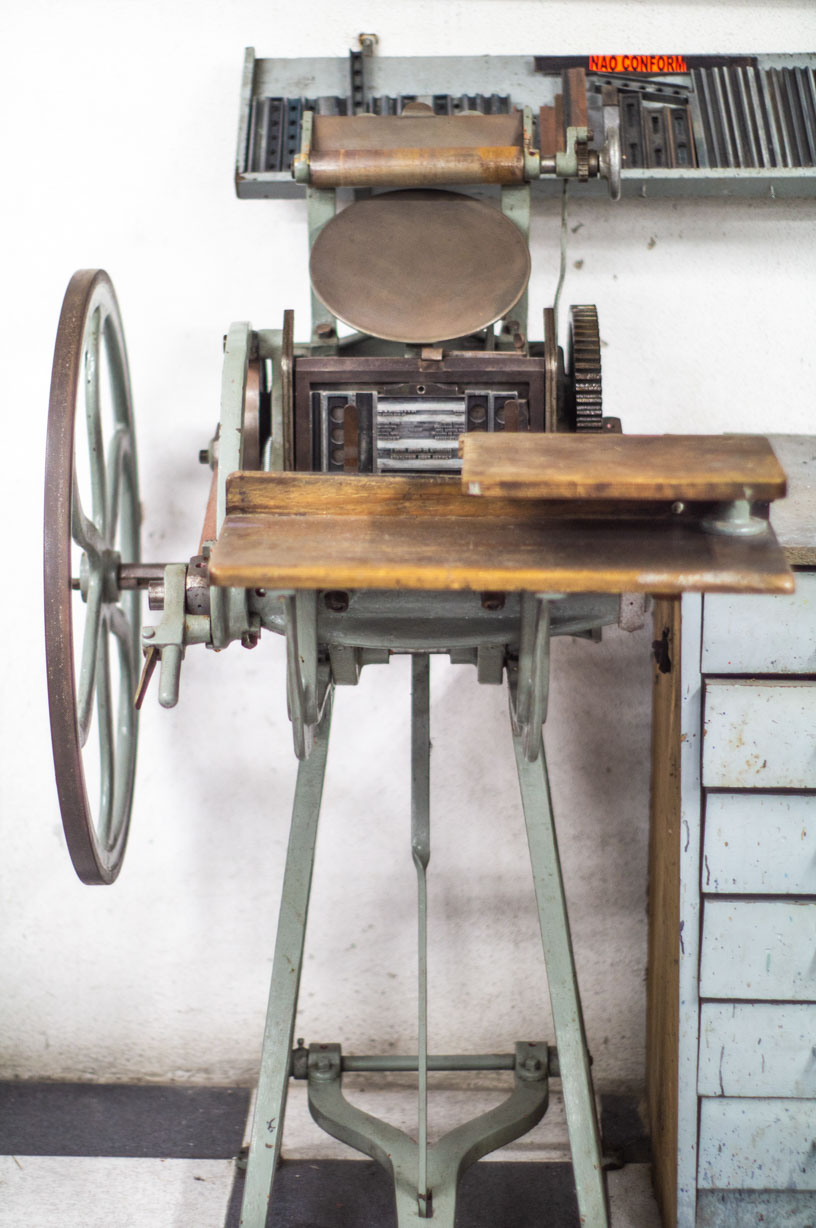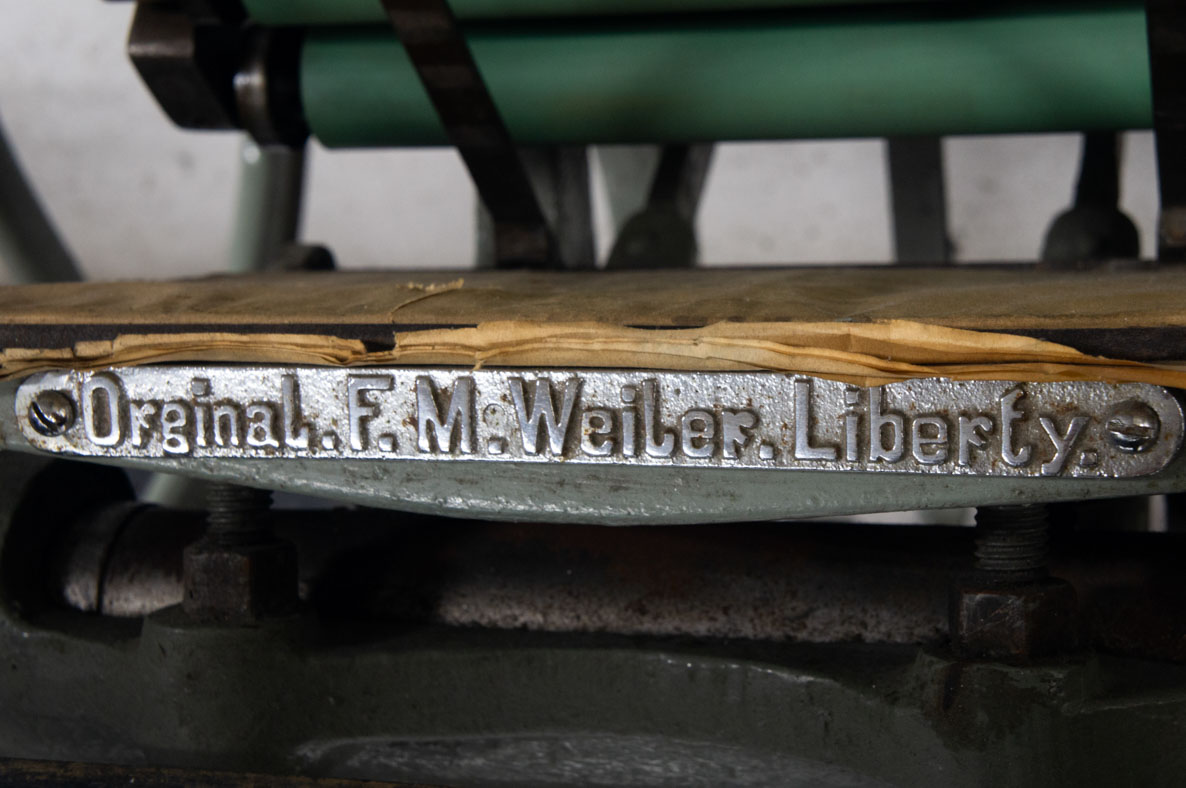 Techniques
Peninsular focuses on typography, offset, and digital printing. They also do book binding, which was a great advantage for me since I could have the book entirely made in one place. The building is set up as a stationery goods shop on one half, and a printing and typography shop on the other half.
Many of the machines found in Peninsular are very old but they function well because the employees have been doing a great job maintaining them over the years. The machines get proper rest when everyone is on vacation. They have also been enhanced over the years with different add-ons.
Diogo Barbedo, 5th generation family member carrying on the Peninsular project.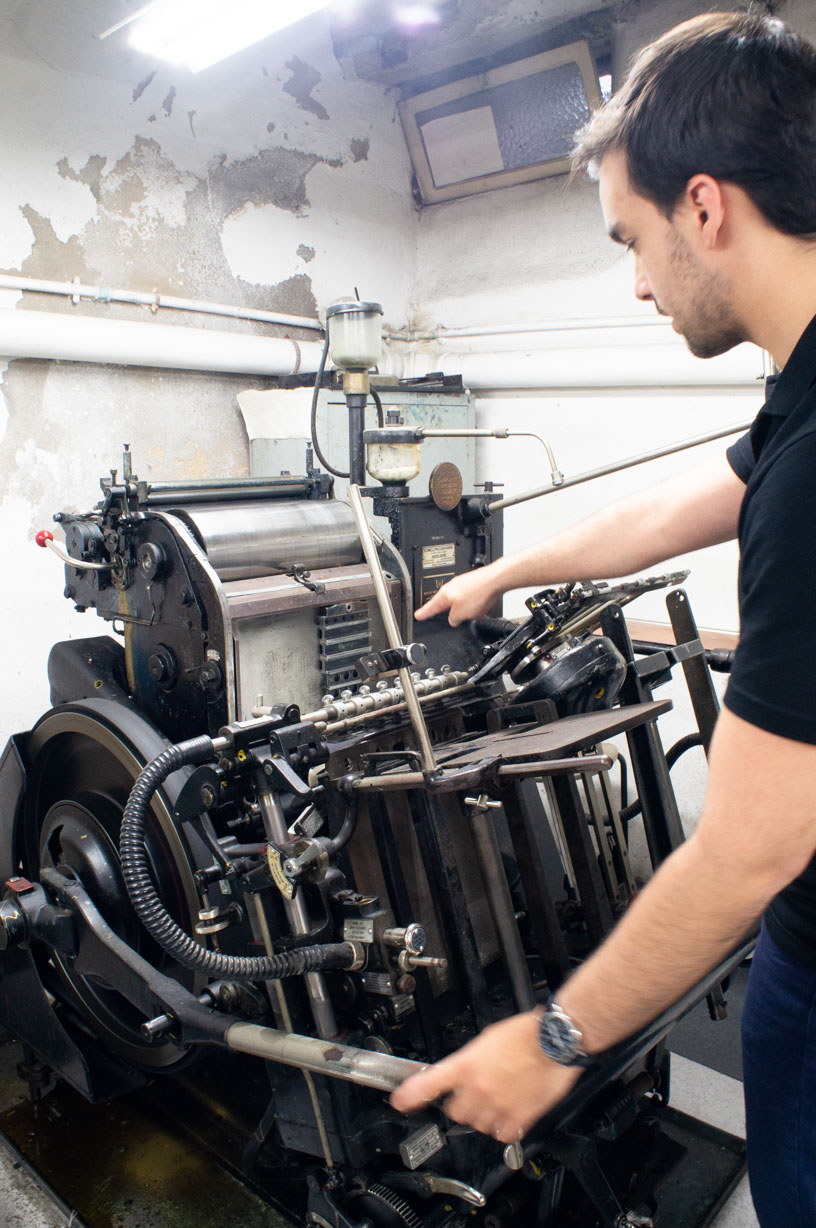 Heidelberg Printmaker machine, 4 colors.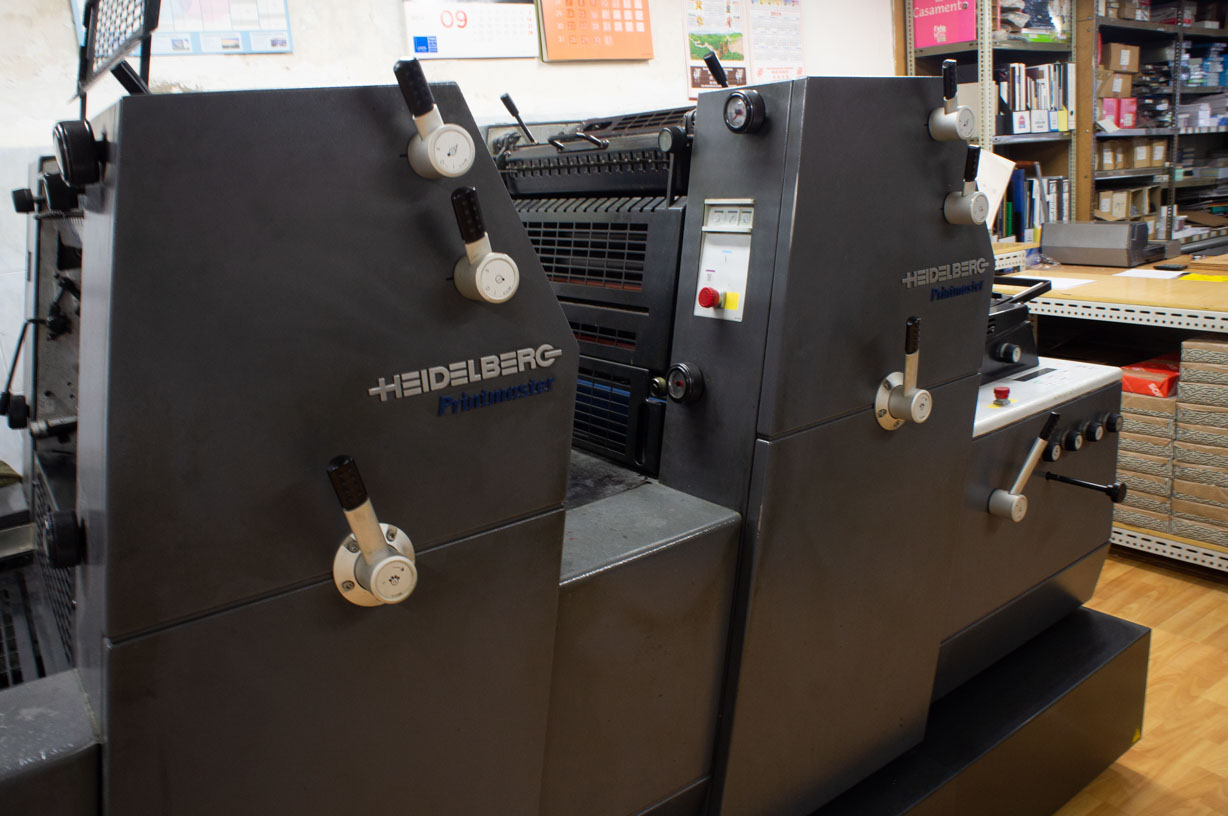 This machine is called Planeta and is used for cutting custom shapes. It is more than 100 years old but still works perfectly fine.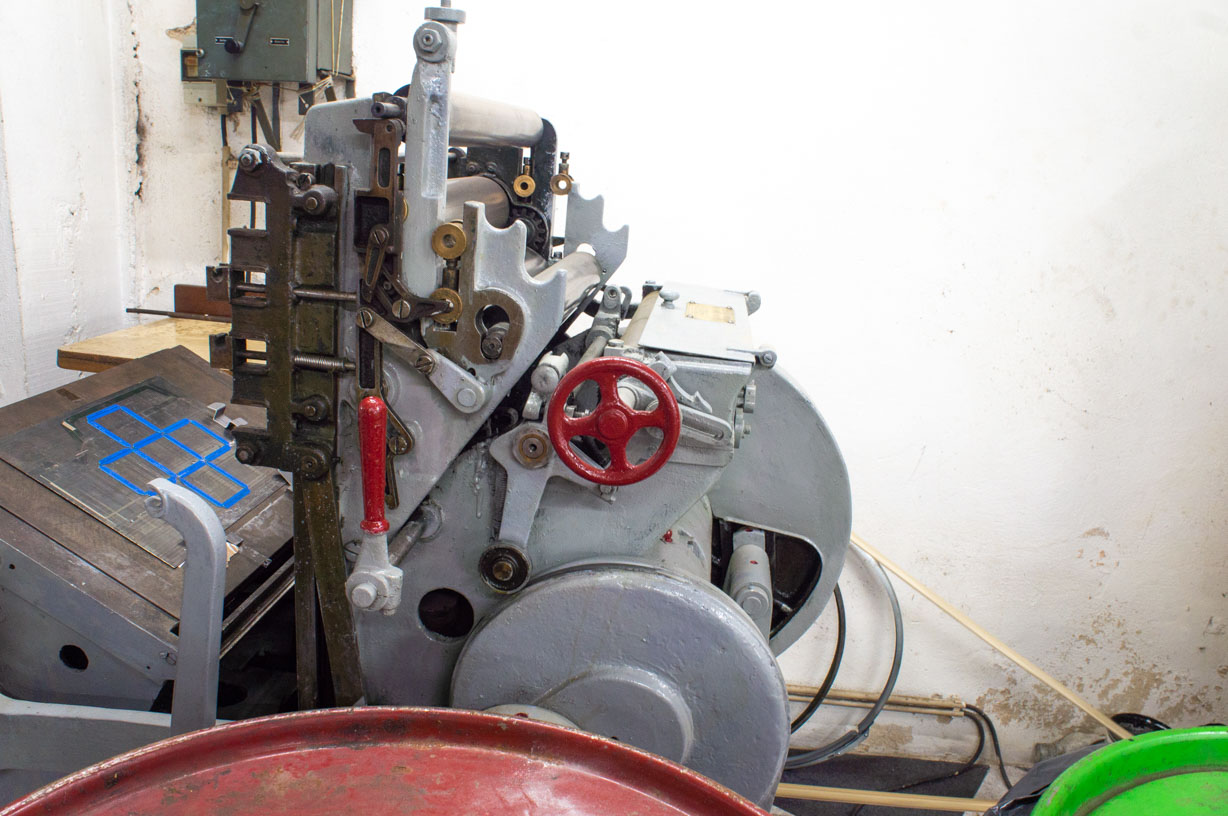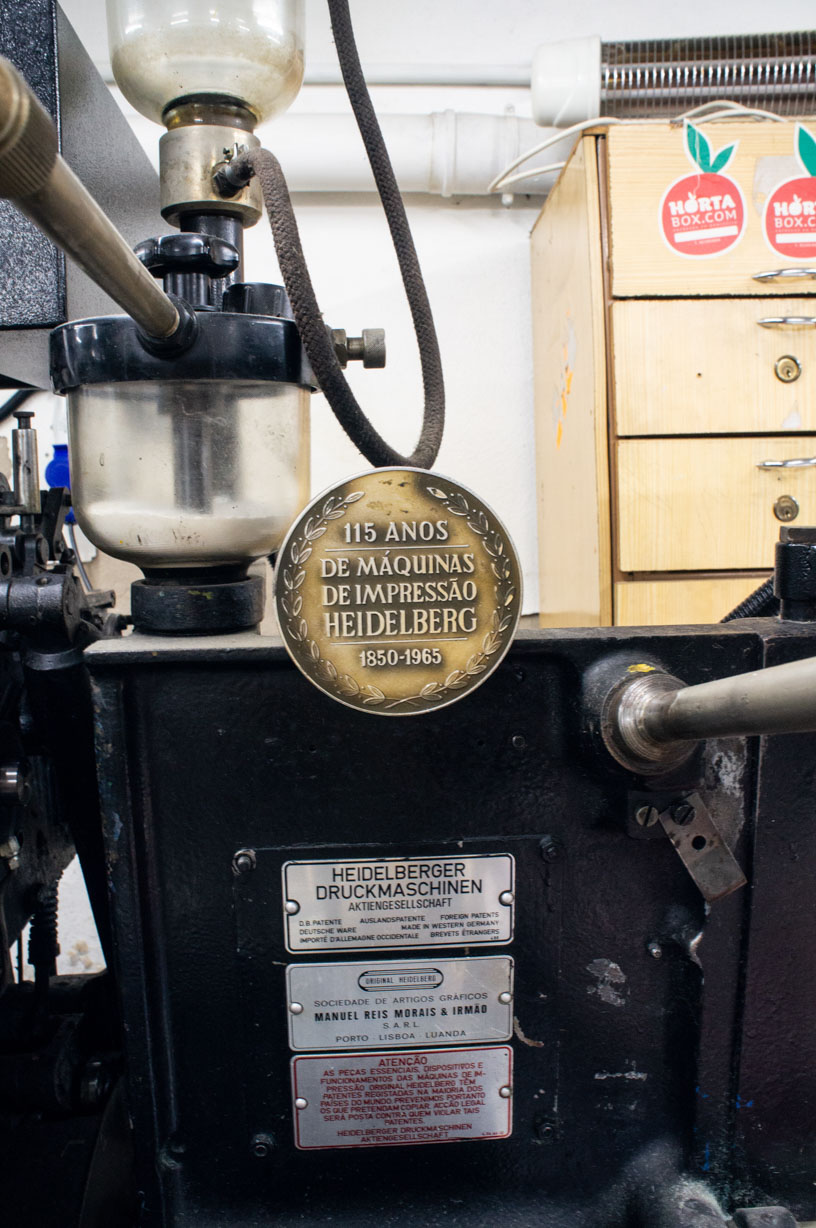 These Heidelberg machines are nowadays used for three things: printing, cutting, and letterpress.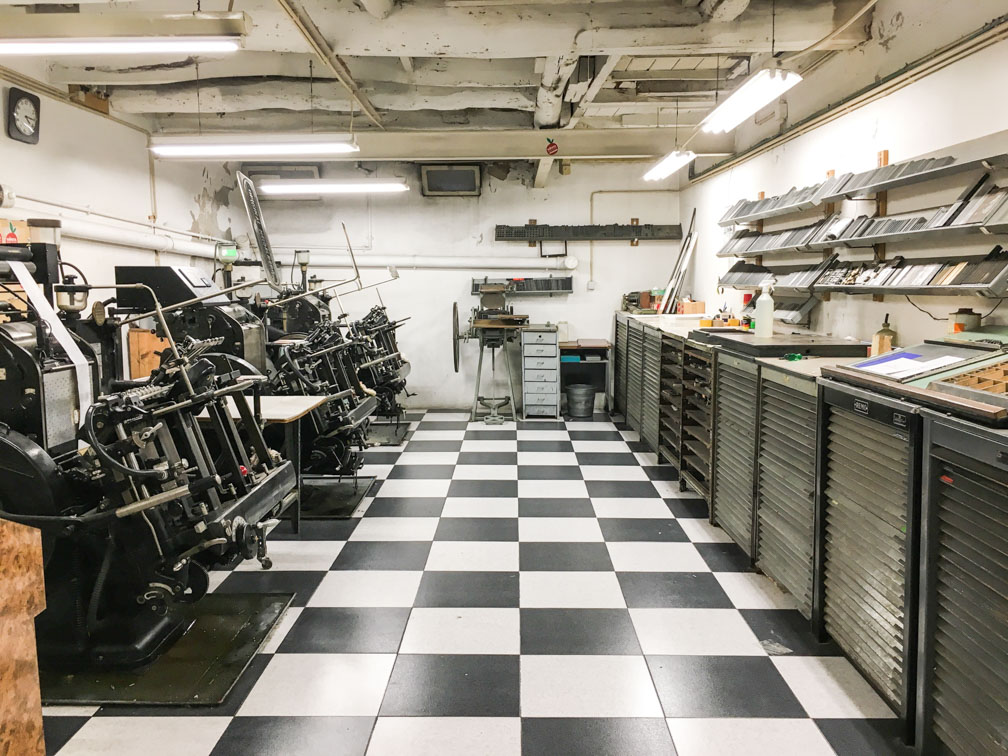 This process is called "hot stamping": the metallic silver plate leaves heat on the smaller engraved plate and the gold foil is transferred onto the paper at a high temperature.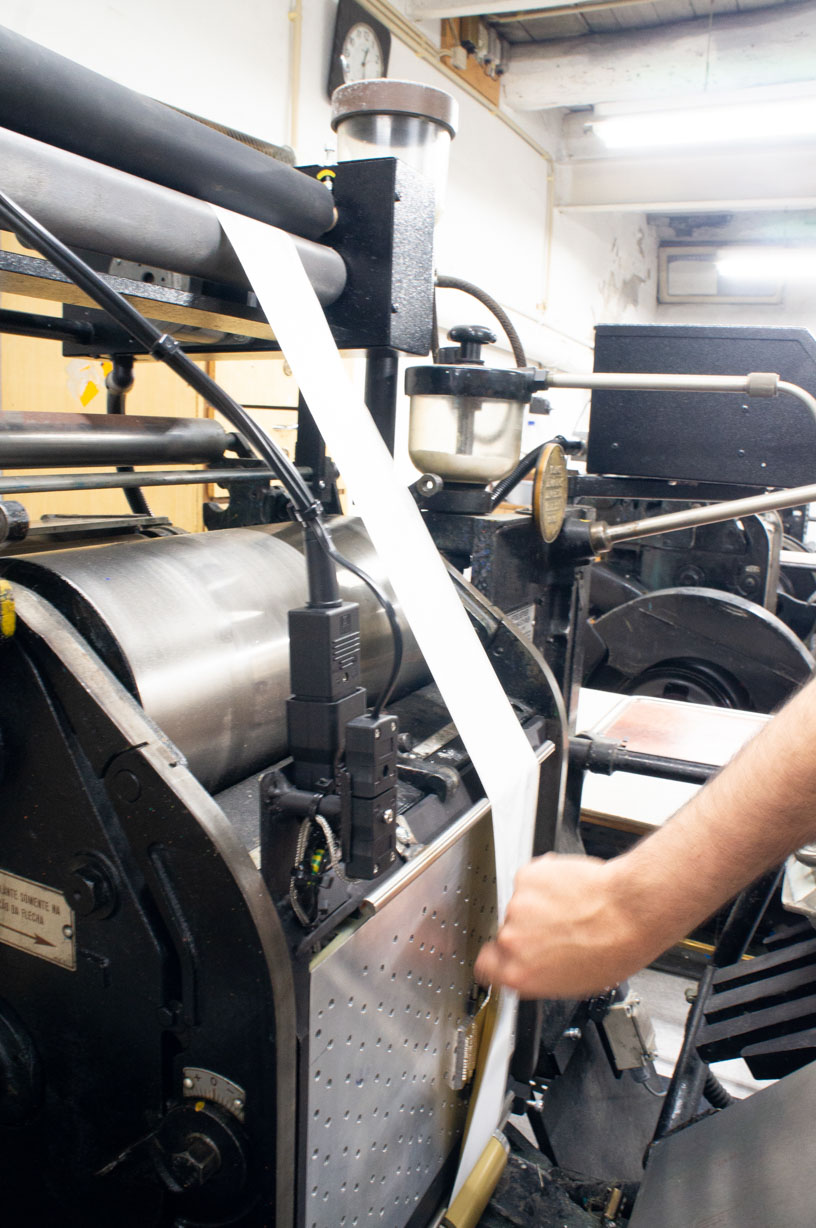 Craft
The top floor of the building is where my 100 Days of Papertint book was made. The room is wonderfully lit with natural light and has a view towards the bustling center of Porto. Anything that has to be done by hand is made here: binding, notebooks, leather covers, staples, etc. It was wonderful to see a copy of my book occupy space on the same shelf where other lovingly crafted products are exposed.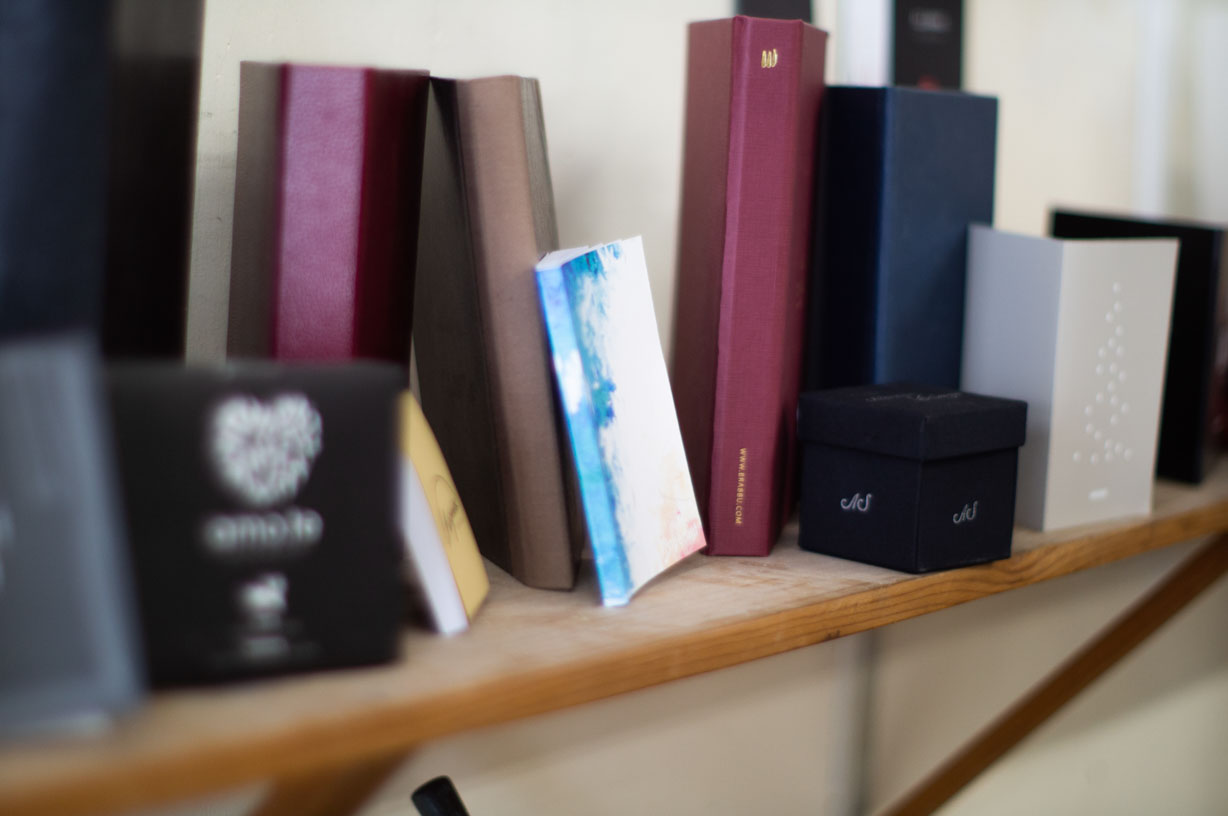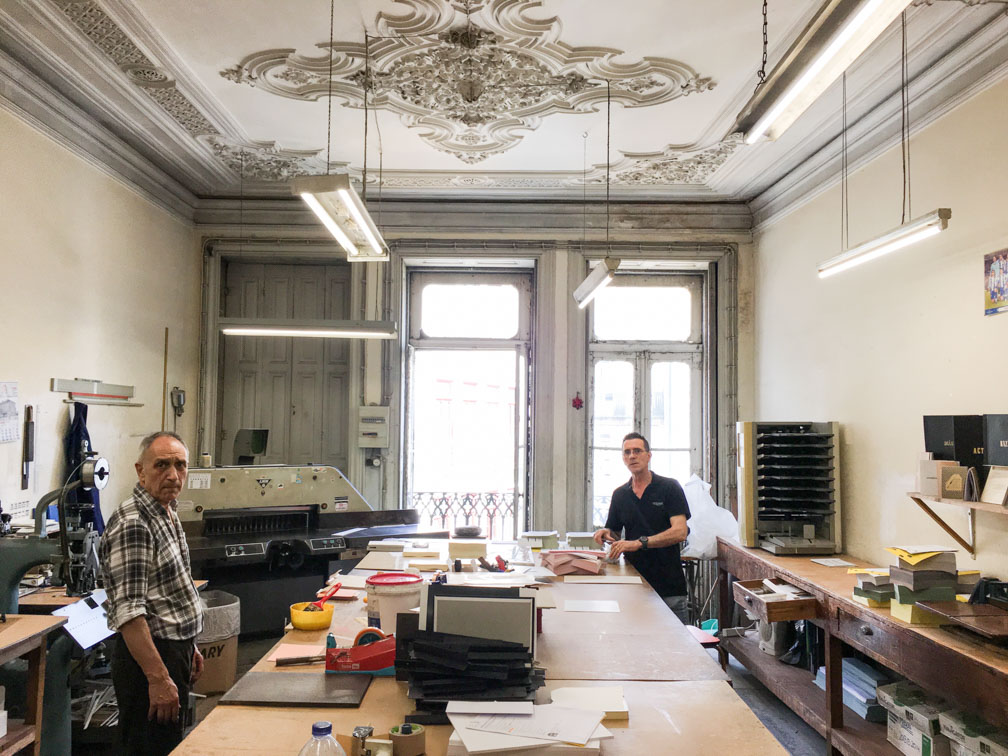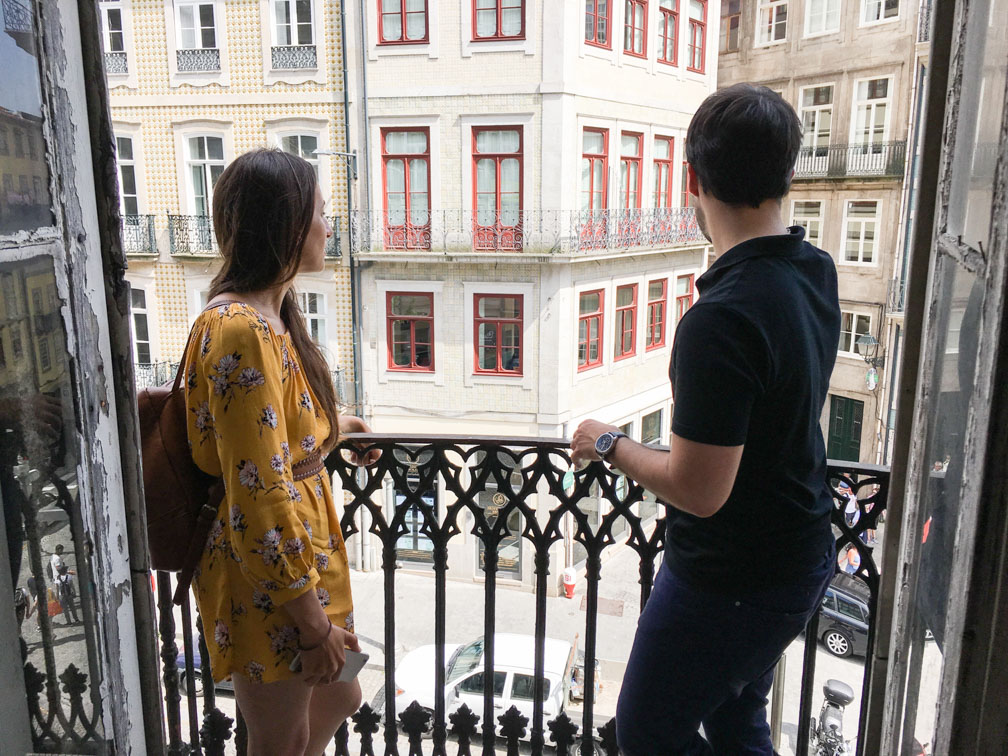 The bookbinder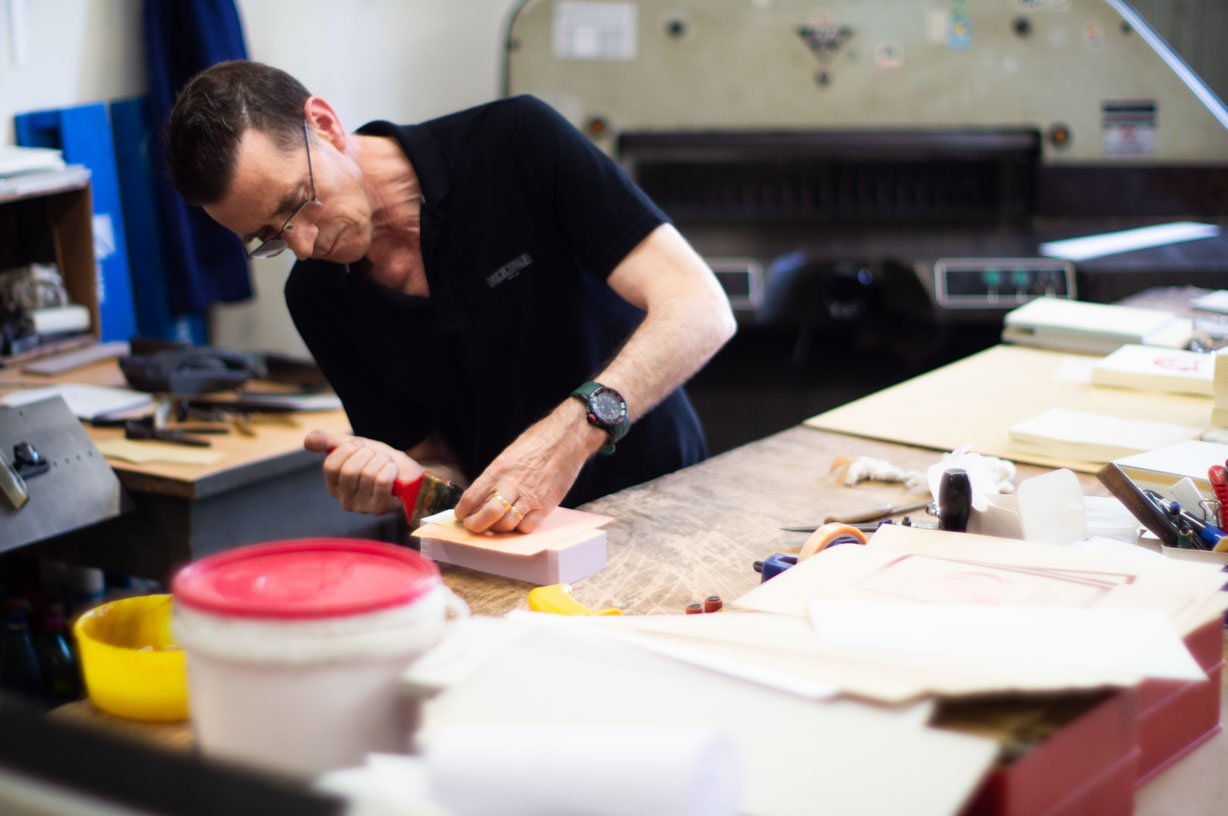 Machine used for cutting labels and perforation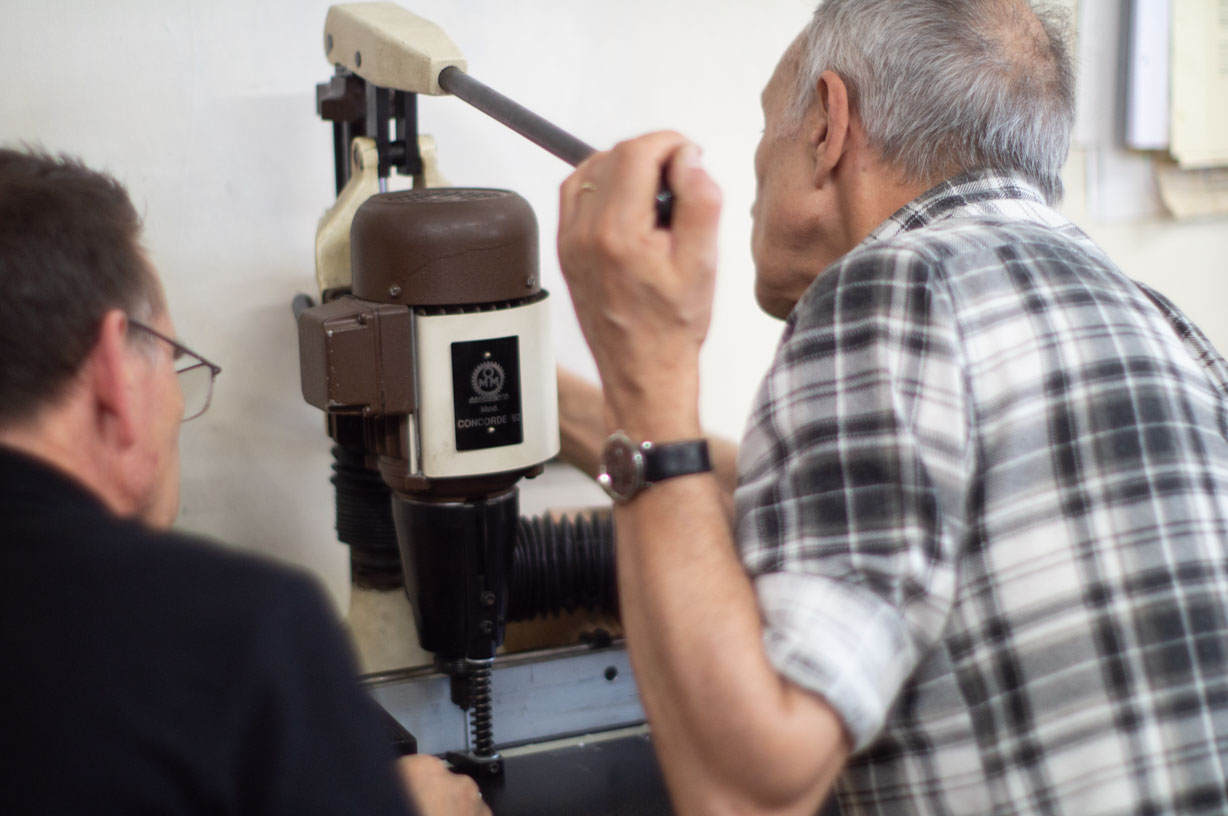 Machine used for stitching notebooks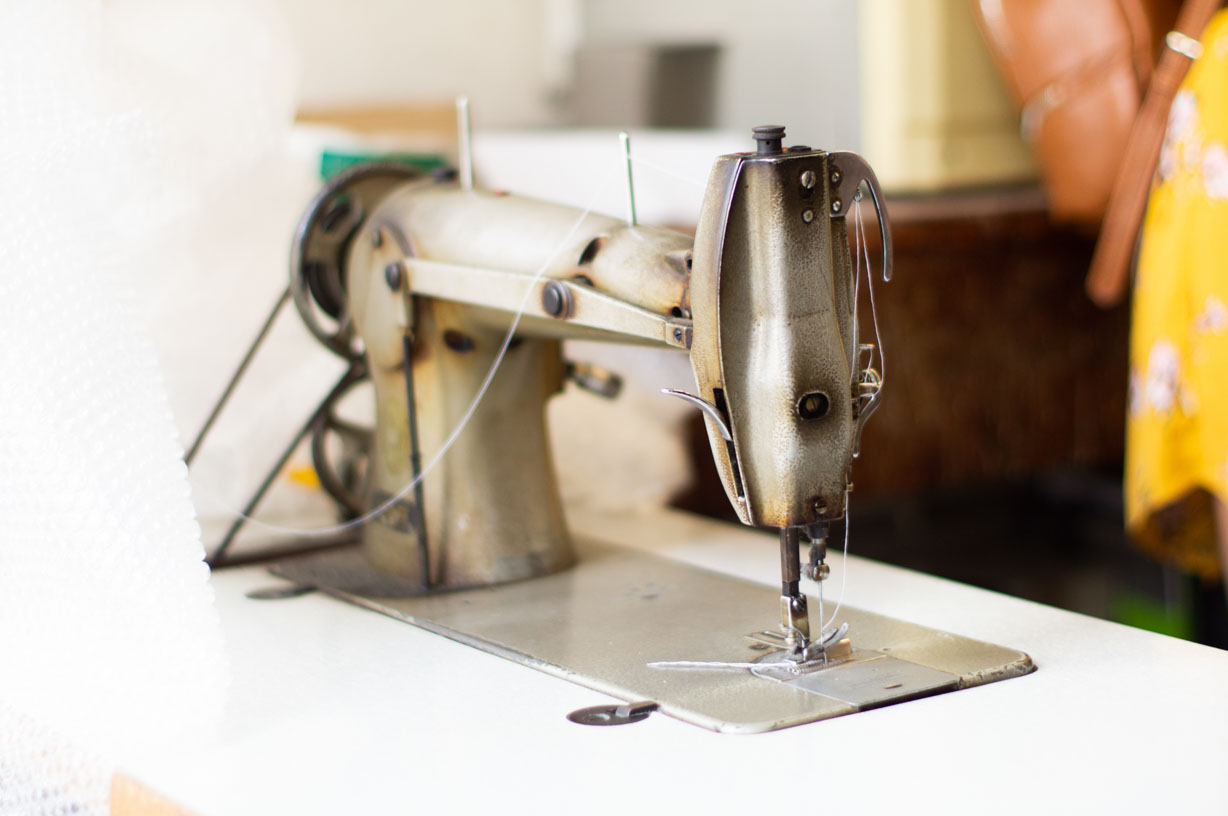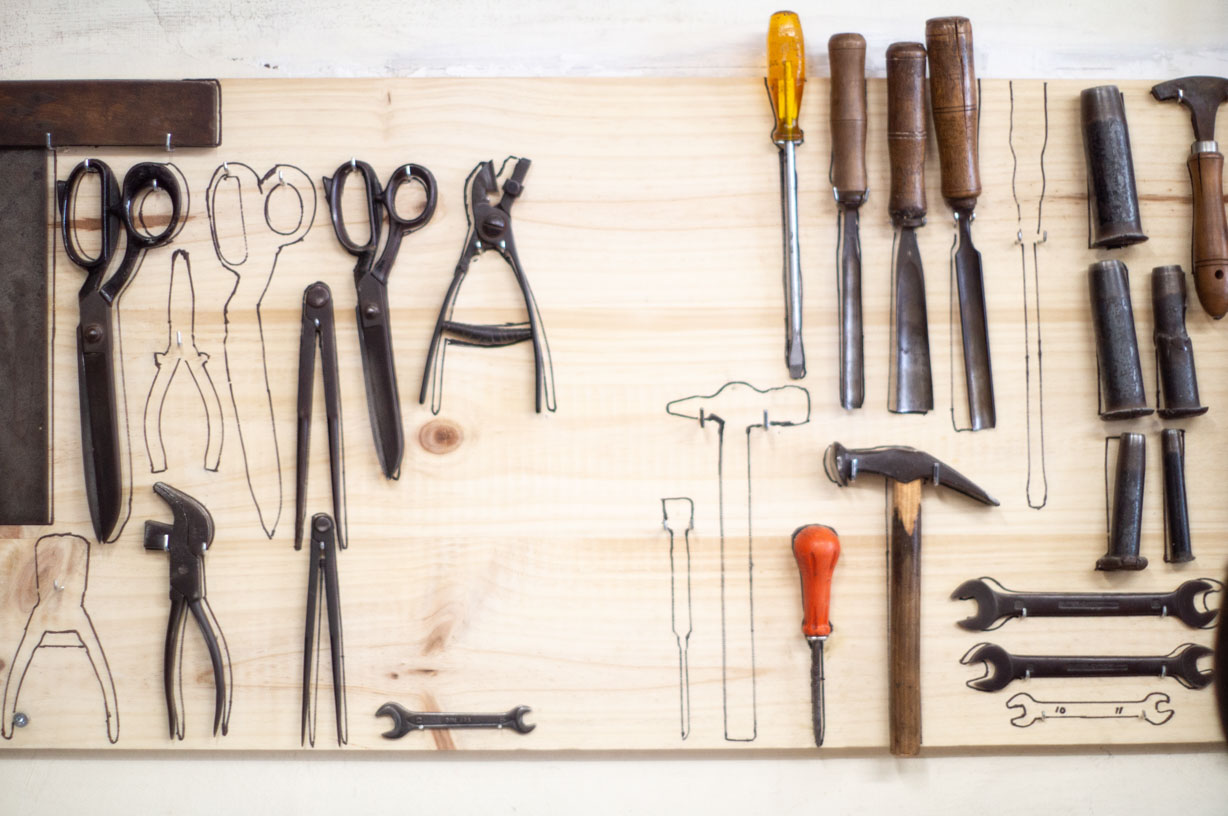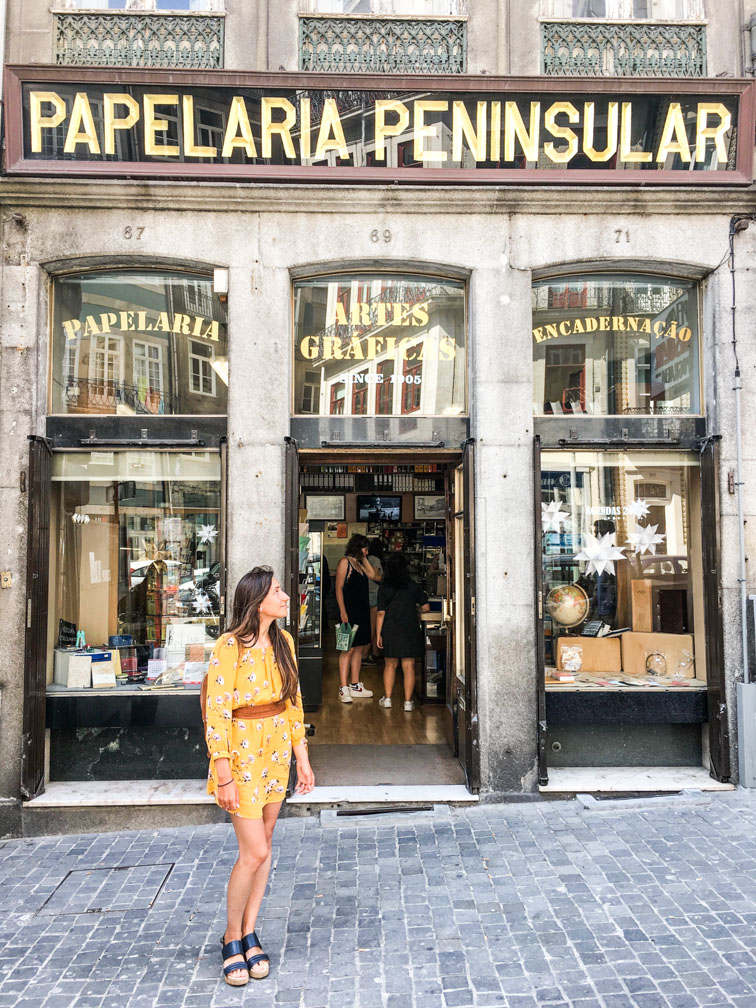 Already from the outside, stepping inside Peninsular feels like walking into history. The company is 113 years old, a combination of old and new, made of a team of people who are devoted to their craft. They are doing well at preserving old techniques, while also bringing in modern concepts to allow the company to continuously innovate.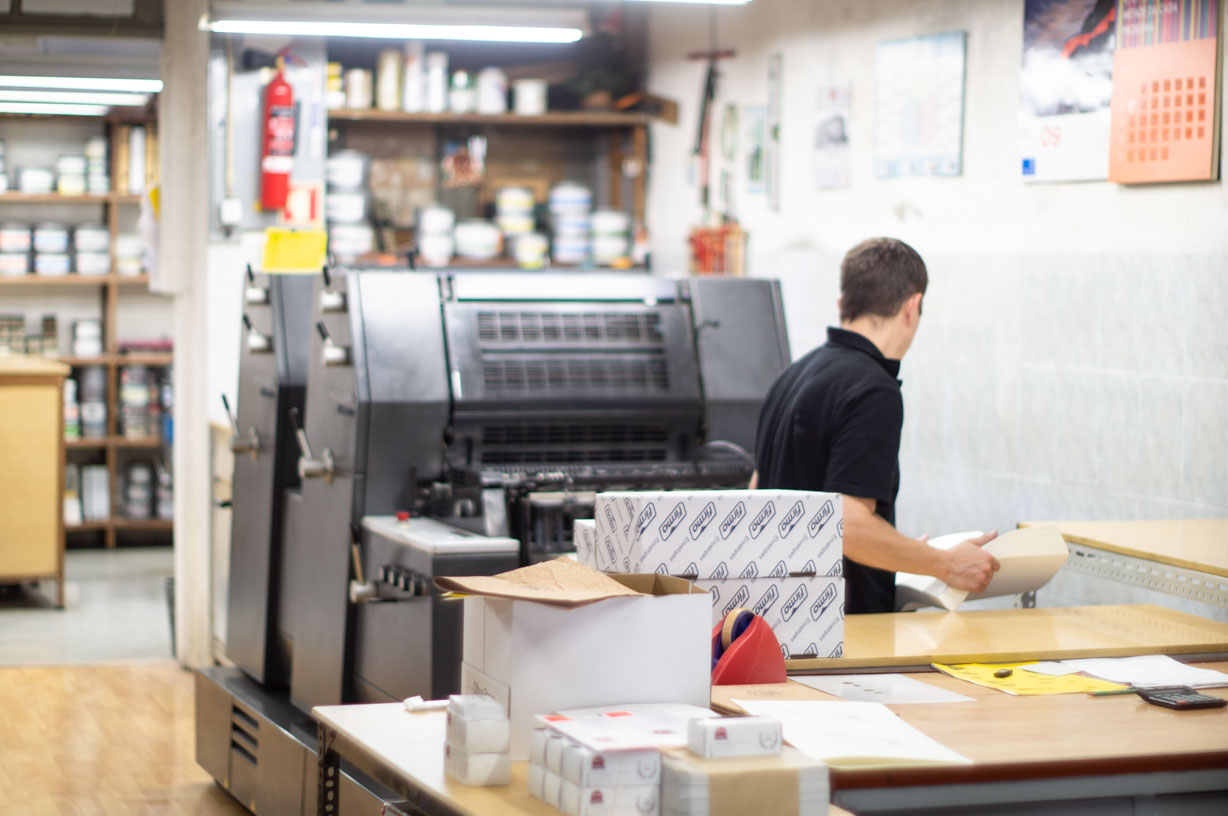 I'm very glad to have found Peninsular and to have met the people who worked on arranging the pages in my book, setting it up for printing, and binding it. Whenever I wanted to make a change, the team was very collaborative and delivered my books in time, right before I left Portugal. Taking a tour inside Peninsular and discovering so much about their history has made me cherish their craft even more. If you're curious to see the book that we worked on together, take a look here.
TO CHECK
The 100 Days of Papertint book
Postcards inspired by the book
TO READ